Below is a map of the Georgia Tech Greek community, commonly referred to as the Greek Sector. Out of our 53 chapters, there are 39 houses within the Greek Sector. Of those houses, there is a mixture of privately owned properties and chapters who lease the land they are on from the Board of Regents. There are also many religious organizations with properties that fall within our neighborhood. All facilities are privately owned and operated. None of the leadership for these houses are a direct report to the Fraternity & Sorority Life Office, but they are included in our regular communications of community updates. You will also see assigned dumpsters and who shares them.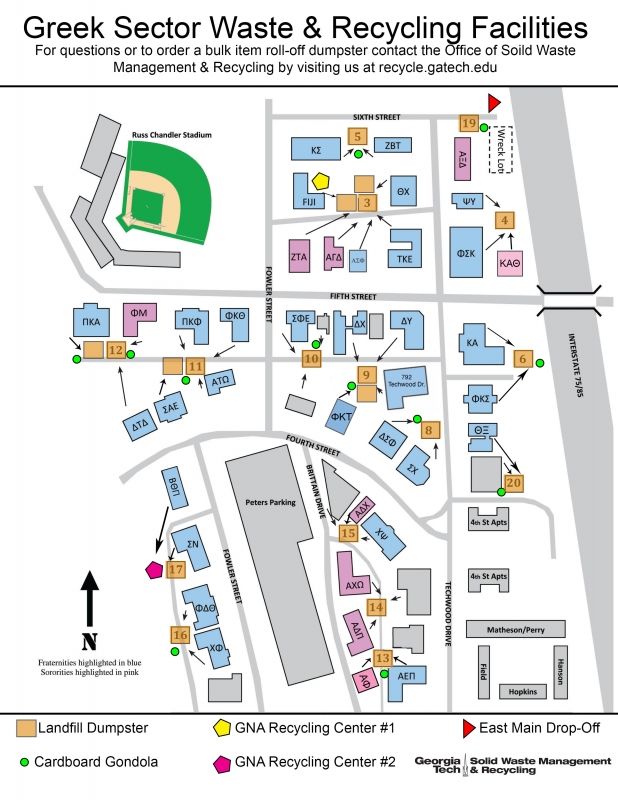 Recognized Greek organizations without houses are listed below.
Fraternities
Alpha Phi Alpha Fraternity, Inc.
Delta Epsilon Psi Fraternity, Inc.
Kappa Alpha Psi Fraternity, Inc.
Omega Psi Phi Fraternity, Inc.
Phi Beta Sigma Fraternity, Inc.
Phi Kappa Psi
Sigma Beta Rho Fraternity, Inc.
Xi Kappa Fraternity, Inc.
Sororities
Alpha Kappa Alpha Sorority, Inc.
Alpha Omega Epsilon
Delta Phi Lambda Sorority, Inc. 
Delta Sigma Theta Sorority, Inc.
Sigma Gamma Rho Sorority, Inc. 
Sigma Sigma Rho Sorority, Inc.
Zeta Phi Beta Sorority, Inc.