Order of Omega is a society based on leadership and academics and limits membership to 5% of the total number of enrolled fraternity/sorority undergraduates. Gamma Sigma Alpha membership is solely based on academics and there is no limit to the number of students a chapter can initiate.
Order of Omega
Order of Omega was founded at the University of Miami in 1959 by a group of outstanding fraternity men, who felt that individuals in the Greek community should be recognized for their service to the fraternity community and the University.
The idea of an honorary for fraternity men at the University of Miami is attributed to Parker F. Enright, the advisor to fraternities at the time. Enright was later to accept a position at the University of Pittsburgh. He was also responsible for the founding of the Omega Chapter at the University of Pittsburgh in the spring of 1964.
On February 9, 1967, a Chapter was chartered at the University of Southern Mississippi. The Order of Omega voted to become a co-ed organization in the spring of 1977, thus honoring all outstanding fraternity and sorority members. There are now almost six hundred chapters in the United States and Canada with approximately ten new chapters being chartered each year.
To be considered, you must have at least a 3.56 GPA, be a member of a CPC, IFC, MPC or NPHC fraternity or sorority, and have completed one full academic year at Georgia Tech. Members are chosen based on scholastic, leadership, and involvement in the Georgia Tech and Greek communities. 
The Order of Omega chapter on our campus will host events throughout the year including round table discussions, guest speakers, networking events with alumni, and general meetings. Members of Order of Omega strive to develop their leadership abilities and professionalism during their involvement with this organization.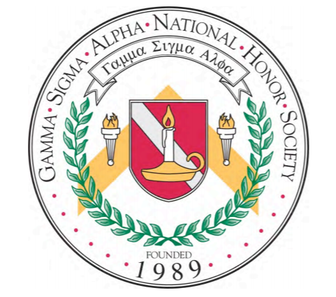 Gamma Sigma Alpha
Gamma Sigma Alpha was founded at the University of Southern California on November 9, 1989, by a group of scholastic achievers representing various fraternities and sororities dedicated to the advancement of higher education and academic accomplishment. Today, this honor society has more than 215 chapters and recognizes over 2,500 members of fraternities and sororities each year. 
Membership is restricted to students who are of junior or senior academic standing who have achieved at least a 3.85 cumulative or semester grade point average at Georgia Tech.
Contact Dr. Jamison Keller with any questions.