As fraternities and sororities are social organizations, having meals together is a strong bonding experience and many chapters with a facility require all members to purchase their chapter meal plan.
Chapter facilities typically have a third-party vendor (hired chef or catering company) to prepare meals for the members. Examples of third-party vendors that some of our chapters use to administer their meal plans include: Chef's Menu, Dogwood Greek Life, College Chefs, Greek House Chefs, etc. Chapter meal plans vary from house to house, but often include:
5 lunches per week
4 dinners per week
an open kitchen for breakfast and snacking
Chapter meal plans are purchased and administered directly through the organization; any questions related to the chapter meal plan or expectations to purchase it should be directed to house leadership.
Since first-year students who live on campus are required to purchase a Georgia Tech meal plan, Fraternity & Sorority Life has partnered with Tech Dining to allow first-year students to switch their Everyday Unlimited or Weekday Unlimited meal plan to the Greek 100 meal plan after joining a recognized Greek organization with a chapter facility and meal plan service of their own. 
This does not cancel your plan with Georgia Tech, but it lowers your options on the traditional plan to accommodate for the meals you have alternatively opted-into at the chapter facility. 
The Greek 100 meal plan for First-Year Students includes...
100 meals for the remainder of the semester
$250 BuzzCard Funds
$100 Dining Dollars
The plan is $1452 per semester and a $30 meal plan change fee will apply.
A pro-rated refund for the larger meal plan already paid for will be issued to the student's account following the switch. 
*The Greek 100 Meal plan transfer is for First-Year students ONLY. Review our Frequently Asked Questions for Upperclassmen.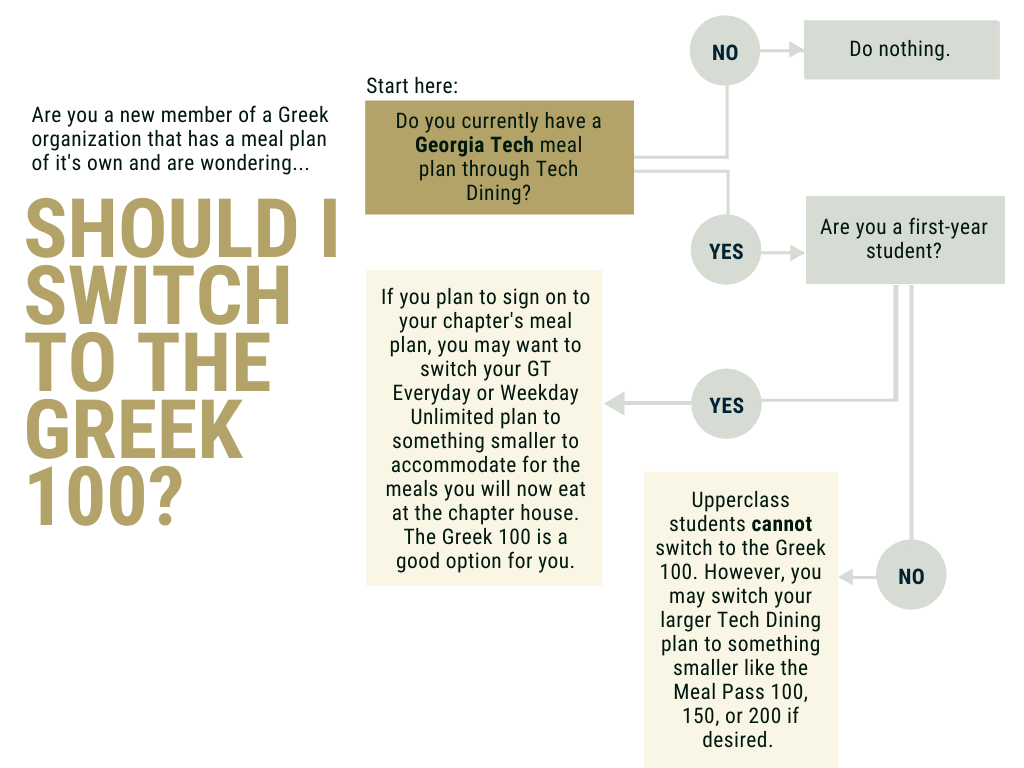 Frequently Asked Questions
When can I switch to the Greek 100?
The Office of Fraternity & Sorority Life accepts meal plan transfer requests for a specific period of time following Fall and Spring recruitment periods.
We will begin accepting meal plan transfer requests on August 21, 2023 until August 29, 2023.
How do I switch to the Greek 100?
Only verified Georgia Tech students may complete the Greek 100 Meal Plan request form. Please click the button on this page to submit your request.
Can I switch to the Greek 100 if I am an upperclass student?
No. The Greek 100 is only available for first-year students.
Upperclass students may switch to the Meal Pass 100, 150, or 200 plan through Tech Dining if desired. Once you join a Greek organization, the deadline to cancel your Georgia Tech meal plan entirely has already passed. The Meal Pass 100 is the smallest available plan option for upper-class students to switch to at this point in the semester.
However, many upperclass students do not already have a Tech Dining meal plan to begin with. If this is the case, there is no need to add one especially if you will be joining your chapter's meal plan.
Am I required to switch to the Greek 100?
No. You are not required to switch your Tech Dining meal plan upon accepting membership in a Greek organization. However, your organization may require you to join their meal plan and many students find that switching to a lower Tech Dining meal plan makes the most financial sense.
When will the Greek 100 be active?
All Greek meal plan enrollments will be effective on a specific, published date. Until that date, the student's original meal plan will remain in force.
The effective date for Fall 2023 meal plan transfers will be September 1, 2023.
I joined my organization after the deadline for switches already passed. What can I do?
If you joined your organization after the August 29th deadline, but before September 15th, we can still make the switch although your refund will be smaller. Please contact us for more information. No meal plan switches will be processed for the semester after September 15, 2023.